Founder of and head lackie for Geek World Living Dot Com, he earns a living working for an amazing university, Washington University in St. Louis, as the Head of the Library Technology Services Unit (e.g. IT shop).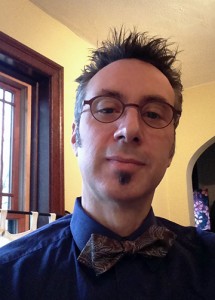 Because he is such geek, working with computers and technology all day for a living isn't enough. So he spends copious amounts of leisure time on personal computing projects such as home automation, remote surveillance, artificial intelligence, infrared photography, time-lapse photography, zoetropes, starship modeling, and of course, this website.
When he's not engaged in some technological tomfoolery, he spends time cooking and eating like it's 1962, catering to the needs of five cats, watching sci-fi programming, digging up the backyard to grow anything other than grass, taking pictures of all kinds of things (but mostly the five cats and stuff growing or living in the backyard), taking hikes in nearby woodlands, reading, sampling the delights of local restaurants and supporting the local bird population with 365 day feeding year in and year out.
And while none of these activities helps humanity at large or saves the world from its own short-sightedness, as an all around good guy he appreciates spending time with those select and few humans who believe that sometimes making a difference happens one cat, bird, or person at a time. If you are interested in saying hi, please write. There's always time to reach back to say hello. Don't be shy, life is too short.